Guys. Guess what.
Paris was E V E R Y T H I N G I dreamed.
Everything and more.
The four days I was there filled me to the absolute edge with inspiration. The grey roofs, the impeccable pastries, the falling leaves, the cracked stone facades, the moody skies, the contrast of bizarre modern art hanging on walls from the 18th century, the crowded chimneys, the police sirens always sounding in perfect fifths, the aggressive *pop* of a Metro door flying open, the ubiquitos monuments, the presence of untamed wildflowers in perfectly kept royal gardens. And of course, the fashion...
Holy lord, the fashion. Our trip happened to coincide with Fashion Week so let me tell you....all of Paris was on POINT. But I got the feeling that they would have been even if it wasn't fashion week - the style I saw in Paris was timeless, off the cuff, completely natural. As if these people woke up with darkened, angular brows and silk scarves jauntily peeking out of their aged leather crocodile bags.
The women of Paris were straight up impeccable. I have no other words.
Of course I don't speak french, and couldn't even if I tried, so there was no way I could have talked to any of them. I tried to absorb as much as I could through osmosis, and a few clear lessons have stuck out to me since I've been back in California. All of the below images were found on Pinterest - some are actually French women, some aren't, but they're all totally inspirational.
Lesson #1: Makeup-free face + dark brows +/- bright lip = perfection
I saw this look everywhere. Powerful eyebrows, all unique in shape & composition, all darkened to the max. Some ladies peppered on a bright, saturated lip, some didn't. But all of them looked flawless. Notably, most of the women I saw in Paris had almost no makeup on their skin (no bronzer, foundation, cover-up, blush, highlighters...nada). It's insane to say this but I was impressed - it was completely refreshing to see crowds of women walking around with dark circles and uneven freckles and marks on their skin, out and proud, not only beautiful in their honesty but ACTUALLY beautiful. For real. I came back home and admired the greyish brown lines underneath my own eyes, for the first time in my life.
Lesson #2: Always Something Masculine
The ladies of Paris seem to have always had a knack for nabbing things from the men's side of the store and making them entirely their own. (I'm remembering Brigitte Bardot in an oversized blue men's button down.) I have some tomboy swag in me as well, but the women I encountered in Paris took it to the next level. A flash of tweed. Double monkstrap leather shoes. Oversized blazers. Stiff hats. Houndstooth. Baggy pants. All decidedly masculine, but all made utterly feminine and fascinating by the wearers.
Lesson #3: Air dried, imperfect, verrrrrry shiny hair
Gorgeous, clean, slightly messy, brilliant tresses. And a lot more wet-ish hair out in the wild than I expected. Inspiration for sleeping in a few extra minutes and leaving the hair dryer under the sink.
Lesson 4: All-red monochrome = FIRE.
A couple of months back I wore an all-red ensemble inspired heavily by my all time style icon, Solange. I felt a bit "out there", more ostentatious than normal, but also 100% like myself. I was delighted to see a ridiculous number all of head-to-toe red get ups on the streets of Paris. Red is such a statement color that even small accents of it have become classics: red nails, or a red lip. A full outfit of red feels assertive, confident, and considered - the ultimate sartorial power play.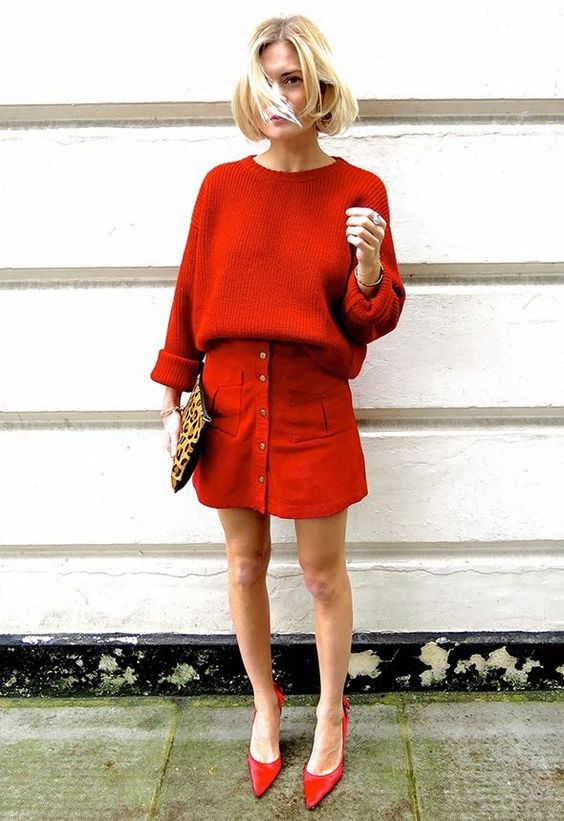 Lesson #5, the most important of all: CONFIDENCE.
The level of confidence that I felt emanating from the stylish women I encountered was thiiiiick. Like a protective bubble surrounded them. Like they looked flawless for themselves only, and didn't give two shits what anybody else thought. Like they didn't even know if they were wearing stilettos or sneakers, like they forgot if they were wearing makeup, like they forgot they got dressed at all that day. It was utterly inspiring, to be reminded so visually that...
...You get dressed for you. For your own joy, necessity, & comfort.
It's just for you. And if you feel fierce/cool/comfortable/firey/confident, then guess what, YOU ARE.
It was 100% the best lesson I picked up in Paris.
More notes from France (including a play-by-play of my favorite things we did) coming soon!
Bisous,
-M